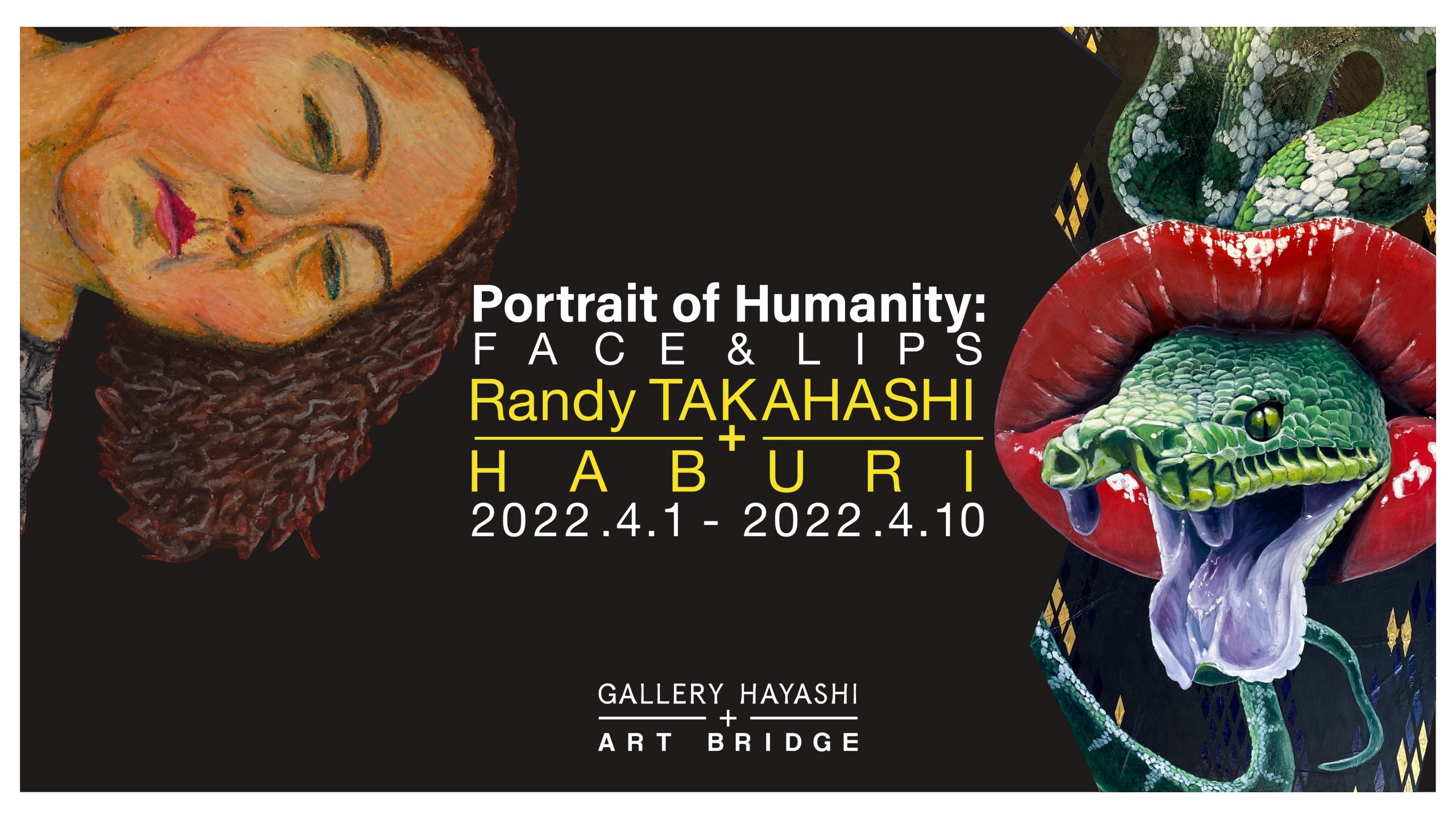 Portrait of Humanity: FACE & LIPS
Randy TAKAHASHI / HABURI
1 April - 10 April 2022
GALLERY HAYASHI + ART BRIDGE is pleased to present Portrait of Humanity: FACE & LIPS, a group exhibition by Randy Takahashi and HABURI.
Humanity is a term used to describe humanity or the psychological nature of human beings. In human symbiosis, humanity depends on collective orientations, which create virtues (right reason). In today's society, where diversity is extremely complex and changing, virtues are also required to be diverse and the coexistence of diverse values is a challenge. The boundaries between nationalities and genders have become blurred, and it is no longer possible to divide people into either Japanese or foreigners, men or women, and there is a 'middle ground' between the two. In this exhibition, two young artists with a background in this 'in-between area' express their feelings of humanity during their time in Japan.
Randy Takahashi's theme is irony towards humanism. The realistically painted animals and lips give the impression of Renaissance painting, the source of humanism, while the motifs are far removed from it. The lips, which are always depicted in Takahashi's paintings, signify the boundary that separates the inside and outside of the human body, as well as the boundary created by prehistoric humanism (virtue). The animals superimposed on the lips are a rare Renaissance motif that satirises humanism and reminds us of the posthumanism to which contemporary society is moving.
HABURI, who herself is from Inner Mongolia, has been dealing with people who are in between the concepts of background and nationality born out of humanism, and has been creating works that are a combination of "spirit and flesh", "spirituality", "humanism", and "humanism". "inner life", "humanity", "gentiles", "insecurity", "insecurity". Themes such as 'nervousness', 'loneliness', 'isolation from the outside world' and 'dark face' are depicted. The portraits express the atmosphere, inner life and spirituality of the subject, and the traces of brushstrokes in the paintings give the impression that time is flowing through the picture plane. And when exhibited in different cultural contexts, the paintings speak permanently of a different time and place.
Date
1 Apr. – 10 Apr. 2022 Opening all day during the exhibition
Time
11:00 – 18:00
1 Apr. 11:00 – 20:00
10 Apr. 11:00 – 17:00
Venue
Gallery Hayashi
Organised by ART BRIDGE
Installation View